Missing baseball already? You're in luck! 2019 Fall Ball online registration is NOW OPEN for Pocket Little League sluggers of all ages!
PLL Fall Ball is a non-competitive, instructional season, which runs from September through the end of October. The instructional nature of PLL's Fall Ball program allows players to gain experience at all positions, without the stress of high-level competition and seasonal standings. This valuable experience is hard to replicate in any other league setting. It's also a great opportunity for kids to play games in higher divisions, as they prepare to move up next Spring. Fall Ball is more laid back than Spring Season, with a focus on developing and honing skills for those moving up, as well as for those returning to the same division.

Fall Ball will begin the first week of September. The registration fee ($50 for T-ball & Minor A divisions, or $65 for Minor AA and above) includes Fall Ball hat and shirt. Games and clinics will be held on Sundays, with optional practices held once a week per division (T-ball through Majors). Pick your child's division based on the Little League age chart for the 2020 season. Registration for Fall Ball is online only and closes on September 4th, so follow the link and sign up today!
Questions? Contact the Registrar at PocketLLRegistrar@gmail.com or from the Contact Us web page.
Pocket Little League's annual Sacramento River Cats Day is Sunday, April 7th. The River Cats will face off against the Tacoma Rainiers at 1:05 p.m. with some proceeds from the event going towards Pocket Little League! This is one event you won't want to miss, as all of our little sluggers will be welcomed onto the field for a pregame parade!
Tickets are on sale now at group rate prices. Come on out and relax on the Toyota Home Run Hill grass for just $12 per ticket.
Gates open at 11:00 a.m. with a motivational "Chalk Talk" at 11:15 a.m. and the famous pre-game parade on the field starting at 12:10 p.m.!
Players should wear their jerseys and hats to represent Pocket Little League in the parade.
Click on the flyer below to pre-order tickets and meal vouchers for the game. Order forms and ticket money must be turned in to Tricia Carter by Friday, March 22nd. For questions, please ask your Team Parent, or contact Tricia directly by email at tricia.carter99@gmail.com.
GO POCKET and GO RIVER CATS!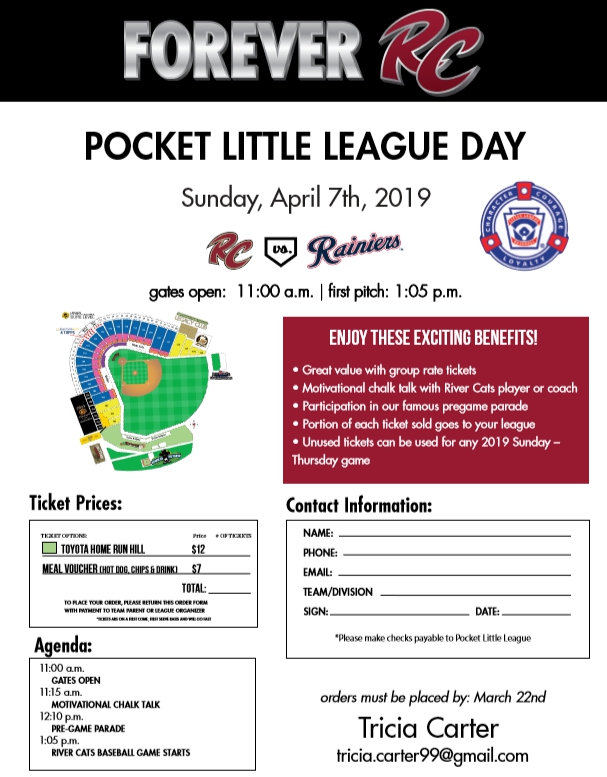 We would like to invite all parents, family, and friends of Pocket Little League to come on out and join us Sunday, March 31st at 5:00 p.m. for our annual Fundraising Dinner to help raise money to support our teams! This will be a fun night for the adults to get together and have a great time away from the baseball fields at an awesome local venue – Urban Roots Brewing & Smokehouse. And the best part? Proceeds from the fundraiser go towards baseball equipment, field maintenance, and improvements for Pocket Little League!
Tickets are $25 pre-sale or $30 at the door. Order your tickets online through eventbrite, or turn in your pre-sale order form to your Team Parent by March 29th to get discounted rates for larger groups, raffle tickets, and desserts.
See the flyer below for more details and feel free to share with anyone who loves baseball and a good time out. We are really trying to make this our best Fundraising Dinner event ever!
See you there and GO POCKET!