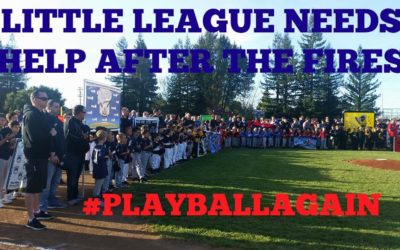 The Pocket Little League Board is asking for help. As you are all aware, the fire in Santa Rosa affected a lot of people. Mark West Little League in Santa Rosa was a league affected by the fire. According to their president, they have 110 players who have completely lost their homes and another 150 who are evacuated.
Land Park Little League ( Jerry and Sarah Ferris) is holding a donation drive to bring some baseball back to their players' lives. They plan on driving all donations to them on Monday, October 23rd.
Items they are requesting:
baseball gear (batting gloves, bat bags, cleats, pants, helmets, undershirts). Gloves are already donated and bats only if they are LL approved.
baseball themed items (shirts, hats, posters, baseball cards, etc)… remember, they've lost everything!
gift cards
cash donations
Big 5 on Florin Road is offering these coupons to help support the Mark West Little League donation drive.
If you would like to donate, you can drop off items at Jerry and Sarah's house — 1217 Ridgeway Drive (go to garage side of house) — on Saturday from 12:00pm-1:30pm and Sunday they'll be at Dooley Field from 10am-2:30pm, so you can bring donations there too. If you are near Sutterville Elementary School, you can bring items to school as well.
Please share this with your Facebook friends. #playballagain