It's that time of year again! Pocket Little League registration is NOW OPEN for the Spring 2019 season!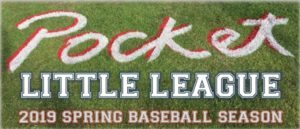 Don't waste any time this year filling out forms by hand and printing documents – Spring 2019 registration is 100% online this season! Visit our registration website to get started today. Step-by-step instructions for registering, payment, and uploading required documentation is all part of the online registration process.
Last season, more kids signed up to play with Pocket Little League than any season in recent memory. Sign up early to reserve your child's spot today and avoid wait lists. We are hoping lots of families – both new and old – join the Pocket Little League community for another great season of youth baseball!
Not sure if you live in the Pocket Little League boundaries? Check our boundary map. If your child's permanent residence is within the boundaries, or they attend school within the boundaries, you can register them to play with Pocket Little League.
Questions about registration or the online process? Visit our Registration information web page, or contact the PLL Registrar at PocketLLRegistrar@gmail.com.
General questions about Pocket Little League? Visit our Contact Us page and drop us a line by email or regular mail.